Archive for the 'Irish producers' Category
(Posts Archive)
Posted by homoludo on Dec 12 2009 Posted by homoludo on December 12th, 2009 filed in !Kaboogie, Irish producers, mash of the week, mashes
1 Comment »
Great, fun and original stuff from T-polar this budget week. With a timely cash register laden mash/remix of the theme from are you being served.
T-Polar – Is you being served?
[audio:/tpolar_-_is_you_being_served.mp3]
He's a diverse and productive producer.With lots of releases; a great ep on digital distortions – Little collosus, a remix of chrissy murder bot and an ep on wide, and in his sitezen guise an album on acroplane- slow grey nightmare – great brooding downtempo music. Vist his myspace or his page on discogs to get an idea of the extent of his work.
Here's another good one from him, mixing up Green velvet and Missy Elliot.
T-Polar-Destination unknown vip
[audio:/destination%20unknown%20vip.mp3]
He also has a remix on Thatboytim's(who had a track on the !Kaboogie records Squidge ep) New Steps ep out on Takeover records  on Monday.
Posted by homoludo on Nov 06 2009 Posted by homoludo on November 6th, 2009 filed in Irish producers, prince kong
Comment now »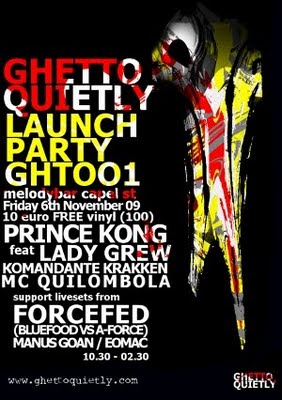 Major gig tonight-Ghetto Quietly with their first release -Prince Kong's amazing Proper Horror Show.  One of the most important Irish dance releases ever, mark my words. Free double vinyl of the album with the ten euros admission.
As Bookat said –
What do you get if you cross the DJ Producer with Diplo and The Bug? Maybe something close to Prince Kong on 'Proper Horror Show'. After a couple of storm-troopin ragga cuts for Alphabet Set and !Kaboogie Records he's made an even more uncompromising effort for the newly minted Ghetto Quietly label, reeling between bushwacka Ragga-gabber on 'Angsta' feat Jah Balance, to hyper-Soca rinseouts featuring MC Quilombola on 'Whailt' and 'Cazz'. It's fair to say there's not really owt around like this so it's the finest example of this style that you're going to find.
Note there's not 'owt around like this' – Just what Irish dance music needs – people with their own sound and Prince Kong's has nailed a sound that's got roots without sounding like it's apeing a scene anywhere else -a rare quality in an Irish dance record.
Here's a taster of what will be on offer tonight. ( check out the tentecled monster that is 'Demons' – a soundtrack to a Mike Mignola adventure)
Tracklist
1.Prince Kong -Demons feat Comandante Krakken
2.Prince Kong – Move Up feat Warrior Queen-from the Well Sick ep on !Kaboogie
3.Prince Kong -Outside feat Tommy Trouble & Eccleton Jarrett
4.Prince Kong -Cazz feat mcRodrigo
[audio:/Prince%20Kong%20Sampler.mp3]
Download
(This audio will be fully loaded in a half an hour or so)
Posted by homoludo on Aug 28 2009 Posted by homoludo on August 28th, 2009 filed in flyers, free music, gigs, Irish bands, Irish producers, the richter collective
2 Comments »
Six foot apprentice and I are warming up for Herv and The Vinny club at the launch of their split single on Richter Collective tonight. Herv's sets have been blowing me away, with a warm detroit motor soul infusing his patented brew of idm and breakcore.
The Vinny club is famed for putting on a great show with super mario guitar hero antics in his live sets.
The first 200 get a copy of the single.
Posted by homoludo on Jul 28 2009 Posted by homoludo on July 28th, 2009 filed in Irish producers, video
Comment now »
Irish Drum and bass don Naphta gets a remix from Grievous Angel, out soon on Blackdown's keysound. Below the (classic) original.
Posted by homoludo on May 29 2009 Posted by homoludo on May 29th, 2009 filed in !Kaboogie, Hardcore continuum, Irish bands, Irish producers, live sets, music, news, prince kong, writing
2 Comments »
 
Lady Grew (all pictures by Aoife from the !Kaboogie records 01 Squidge ep launch  last friday)
A big couple of weeks in Irish Bass/dance music. Two releases from Irish artists on Irish labels, on vinyl. One on Alphabet set the other the first release on !Kaboogie, lauched two weeks ago and last week.
Prince Kong blazing on both. Here's how Boomkat put it (who have sold out of their first order all ready)-
Good Lord! What the hell is this?!?…-Prince Kong and T-woc have just shocked our afternoon to the core with a blinding pair of future Dub cuts seemingly beamed from another planet. Prince Kong's 'Crossroads' sounds like The Bug inna deep war with Babylon, sending hordes of dreadlocked bass disciples armed with industrial kickdrums and razor-edged rave signals to bring down any System that tries it, only better.
For me Prince Kong is a totally original Irish producer with a transnational sound. Bringing on MC driven bass and barbed wire riddims to scarify while avoiding the usual traps of imitating Detroit, London, Aphex bloody twin or whatever.
Mc Rodrigo
He's had a power and originality from the first time I heard him in Eustace St a few years ago(first dublin gig I think) This has come to the fore at a series of gigs over the last two years. The sound getting weightier and skankier with every gig. Dancing to it you're caught between the bass rooting you to the floor and the high end jerking you up.The show is now a Tour de force with MCs chatting and chanting over shuddering sounds.
Working with MCs like Warrior Queen and Jah balance and legends like Eccleton Jarrett and more recently focusing on local talent like Lady grew and MC Rodrigo. Occaisionally I've been asked by local bass younglings to recount the history of Irish beats but that story is of depressing failure so I've avoided writing about it. Refreshingly, this feels like success. And with Alphabet set and the launch of !Kaboogie records hopefully more to follow.
Here are a couple of exclusives. The first a 4×4 stomper with a bass hovering like a UFO over bouncy loops. The second unashamed breakcore with soul.
Prince Kong feat Lady Grew  – Whatcha
[audio:/whatcha%20feat%20lady%20grew.mp3]
Prince kong feat Jah Balance and Eccleton jarrett
– Bloodwar
[audio:/Prince%20kong_.mp3]
The live set sounds amazing, sounding vinyl mastered which is something for a live set. A good sound track to the Irish Babylon crisis.
[audio:/prince%20kong%20feat%20lady%20grew%20and%20mc%20rodrigo.mp3]
Prince Kong and Lady Grew
There are upcoming releases on !Kaboogie and Middlemanagement . With !Kaboogie 002 a full Prince Kong ep.
Lady Grew
Also more on T woc soon.
Posted by homoludo on Feb 10 2009 Posted by homoludo on February 10th, 2009 filed in !Kaboogie, Irish producers, mashes, mixtapes, music
3 Comments »
Here's a mix of some of the tunes from the recent rough !Kaboogie Sampler of Irish beats. I did it a few weeks ago for the radio, but the cd deck kept messing up so it kept getting held over. I thought I'd better post it before it's old news. There are some gratuitous tracks  -  Kid Cudi, the amazing farmers anthem from Collie Buddz and some Irish tracks that aren't on the sampler, but you get the idea.
[audio:/kaboogie%20sampler%202.mp3]
Gash_Up -The Banker- Masher/Editor/Arranger

Lazy Squan

 

– Kachanski

Leiden

Ex – Cignol

Loom – Solen

Beer, Vermouth & Gin (Big Instrument) Piero Umiliani

Skuff D Boxcutter

Stringaling 2-Bit  Mash/w

 The Prayer KiD CuDi

Herb Tree -Collie Buddz

Embrace The Martian- KiD CuDi

 

mash/w DJ scotch egg

Dek Rudder – Bluefood mash/w

Load it – Prince Kong (thug)
Posted by homoludo on Jan 08 2009 Posted by homoludo on January 8th, 2009 filed in funky, Irish producers, mixtapes, music, video
2 Comments »
Here are some quality Irish tunes from 2Bit and Automatic Tasty. 2Bit's 'Ifer' is available  for free download here.

Automatic Tasty has an album out on Acroplane here. The tune below 'Little blue car' is driving me mad 'cause its melody reminds me of a tv theme tune(a book voucher for anybody who indentifies it, I gave up after a couple of hours, not spectrum enough I suppose).
Automatic -Tasty Little Blue Car
[audio:/4.%20little%20blue%20car.mp3]
In other Irish news,  from the Clare People – "Lisdoonvarna double act Drugzilla are Clare People Interactive's Clare Artist's of the year…(they)bring underground to a whole new level and have won a massive international following for their experimental hardcore songs about drinking cider and Buckfast." Hope to have them at our new run of gigs(more on these soon) in McGruders in April.
Drugzilla – On a Mission from a Hippie in a Van
[audio:/On%20a%20mission%20from%20hippies%20in%20a%20van.mp3]
Also a good mix of funky (newish UK house/bass variant) below from Colz. What I like about the mix is that is forefronts the riddim-ness(in the dancehall sense) of funky. It also includes by far my fav funky tune so far, Hard house Banton's "sirens".
Dj Colz New year funky mix
[audio:/DJ%20Colz%20New%20Year%20Funky%20Mix.mp3]
Tracklist
1 Bakongo – Uncle Bakongo
2 Sirens – Hard House Banton
3 Gabryelle Refix – D Malice
4 I Wish – X5 featuring Teresa
5 Makonde – Uncle Bakongo
6 Feeline – Roska
7 The Print – Fingerprint
8 Dub Boy – Funky Underground
9 Turbulence – Jalla
10 Inflation – Crazy Cousinz
11 Quicktime – DJ Naughty
12 Changes – DJ Mystery
13 Green Light – Footsteps
14 Baga – Uncle Bakongo
15 Big Life – Colz
While I'm posting UK vids, here's the low slung and menacing 'Da Hardest' from Giggs. Who made some of the best grime of last year.