Posted by homoludo
on November 26th, 2010 filed in
Irish producers
,
radio shows
,
Sixfoot Apprentice
This weeks show, Sixfoot Aprentince and I.  My set starting of with a sample about being Irish at the moment , into dark dub house into house into  swung techno and funky.
PCPRaidio – Another City
[audio:/PCPRaidio_Any_other_city_20_11_2010.mp3]
Tracklist here for my bit (for those like me that don't listen to mixes with no tracklist) at 23.50 mins in , will put up Sixfoot's and fix up this post a bit shortly.
Sixfoot Apprentice
DEFEKT – 'Replicants Mind' (from 'Stimulus EP' on Takeover Recordings) IRE
DIGGER – 'Brookfiled Grime (Scheme Boy Remix)' (from 'Brookfiled Grime EP' on Second Square To None Records) IRE
SARSPARILLA – 'Dirty Road House Dancing' (unreleased) IRE
AUTOMATIC TASTY – 'Through The Ascii House (Alien Hand Remix)' (from 'World Wide Web' on Acroplane Records) IRE
Q-LAZZARUS – 'Goodbye Horses' (from 'Goodbye Horses EP' on All Nations Records)
2nd bit…>>>
PCP
Sample from Martin Scorsese's The Departed
Veil – Eat the World – System Drills Vol 1 – Test Conditions
Raime -Retread -Raim ep -Blackest ever Black
These New Puritans – Hologram (Salem Remix)Â  – Domino
Various Productions- Track 1(house track) Keep her Keen ep (Been playin'Â  this for a couple of years and only now realise it's Actress Lost, oops, come to think of it realised a year ago and then forgot, the vinyl has no track list…-Varioius Recordings
Jimmy Edgar – One Twenty Detail v3
Giorgio Moroder – E=Mc2 – E=Mc2 (1979)
Mike Monday and Will Saul- Small_Moments   – Sequence 1 ep -Aus Music
Nochexxx – Ritalin_Love  -Ramp
Mike Monday and Will Saul-Sequence 1Â  – Sequence 1 ep – Aus Music
Altered Natives -What Life Once Was
Basic_Soul_Unit_-_Jak'd_Freq- A_Made_Up_Sound_-_Acid_bonus remix -Creme Organisation
SEROCEE – Badeng! (MJ Cole remix) Badeng!
Cooly g-Phat_Si
sixfoot A
T-WOC – 'Good Father' (from 'Good Father 7' on All City Records) IRE
ROLLERSKATERS – 'Sleep Tight' (Star Slinger Remix) (from 'Remixes 2010' on Star Slinger bandcamp)
ALPINE – 'Icy Poles' (Star Slinger Remix) (from 'Remixes 2010' on Star Slinger bandcamp)
BOSCO DELREY – 'Space Junky' (from 'Space Junky' on Mad Decent Records)
MESSIAH J & THE EXPERT – 'Something Outta Nothing' (from 'Now This I Have To Hear' on Inaudible Records) IRE
NIAMH DE BARRA – 'His Own Drum' (from 'Cusp EP' on Second Square To None Records) IRE
Also playing at in the Dublin Conservitive Club tonight and at this tomorrow.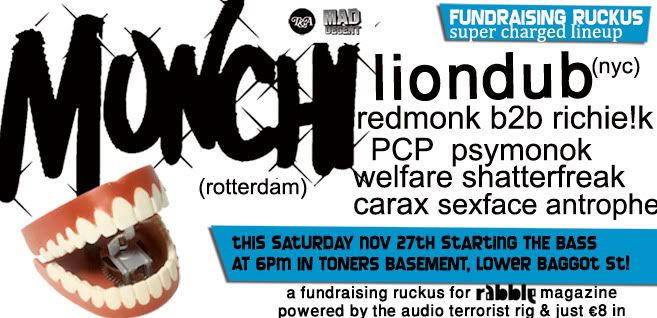 Info and links etc here