Archive for November, 2010
Posted by homoludo on Nov 26 2010 Posted by homoludo on November 26th, 2010 filed in Irish producers, radio shows, Sixfoot Apprentice
1 Comment »
This weeks show, Sixfoot Aprentince and I.  My set starting of with a sample about being Irish at the moment , into dark dub house into house into  swung techno and funky.
PCPRaidio – Another City
[audio:/PCPRaidio_Any_other_city_20_11_2010.mp3]
Tracklist here for my bit (for those like me that don't listen to mixes with no tracklist) at 23.50 mins in , will put up Sixfoot's and fix up this post a bit shortly.
Sixfoot Apprentice
DEFEKT – 'Replicants Mind' (from 'Stimulus EP' on Takeover Recordings) IRE
DIGGER – 'Brookfiled Grime (Scheme Boy Remix)' (from 'Brookfiled Grime EP' on Second Square To None Records) IRE
SARSPARILLA – 'Dirty Road House Dancing' (unreleased) IRE
AUTOMATIC TASTY – 'Through The Ascii House (Alien Hand Remix)' (from 'World Wide Web' on Acroplane Records) IRE
Q-LAZZARUS – 'Goodbye Horses' (from 'Goodbye Horses EP' on All Nations Records)
2nd bit…>>>
PCP
Sample from Martin Scorsese's The Departed
Veil – Eat the World – System Drills Vol 1 – Test Conditions
Raime -Retread -Raim ep -Blackest ever Black
These New Puritans – Hologram (Salem Remix)Â  – Domino
Various Productions- Track 1(house track) Keep her Keen ep (Been playin'Â  this for a couple of years and only now realise it's Actress Lost, oops, come to think of it realised a year ago and then forgot, the vinyl has no track list…-Varioius Recordings
Jimmy Edgar – One Twenty Detail v3
Giorgio Moroder – E=Mc2 – E=Mc2 (1979)
Mike Monday and Will Saul- Small_Moments   – Sequence 1 ep -Aus Music
Nochexxx – Ritalin_Love  -Ramp
Mike Monday and Will Saul-Sequence 1Â  – Sequence 1 ep – Aus Music
Altered Natives -What Life Once Was
Basic_Soul_Unit_-_Jak'd_Freq- A_Made_Up_Sound_-_Acid_bonus remix -Creme Organisation
SEROCEE – Badeng! (MJ Cole remix) Badeng!
Cooly g-Phat_Si
sixfoot A
T-WOC – 'Good Father' (from 'Good Father 7' on All City Records) IRE
ROLLERSKATERS – 'Sleep Tight' (Star Slinger Remix) (from 'Remixes 2010' on Star Slinger bandcamp)
ALPINE – 'Icy Poles' (Star Slinger Remix) (from 'Remixes 2010' on Star Slinger bandcamp)
BOSCO DELREY – 'Space Junky' (from 'Space Junky' on Mad Decent Records)
MESSIAH J & THE EXPERT – 'Something Outta Nothing' (from 'Now This I Have To Hear' on Inaudible Records) IRE
NIAMH DE BARRA – 'His Own Drum' (from 'Cusp EP' on Second Square To None Records) IRE
Also playing at in the Dublin Conservitive Club tonight and at this tomorrow.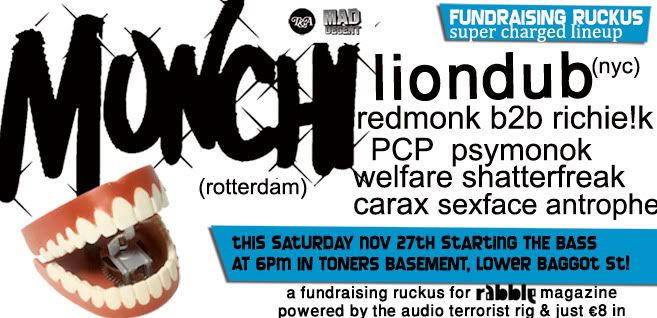 Info and links etc here
Posted by homoludo on Nov 20 2010 Posted by homoludo on November 20th, 2010 filed in Irish producers, radio shows, Sixfoot Apprentice
Comment now »
This weeks show starting off with Aul Wan's grim tale of penury and loneliness which suits what's going on in Ireland this week. Other Irish tunes in my bits include tropical drum and bass from Welfare, top Irish electro from Negatron , Speed and Acid munching experimental techno anthem Brain Your Melt from Ed Devane amongst others. Sixfoot's set includes mad Italians Adriano Celentan making up what sounds like English to them, Exillon's remix of Cat Power doing Moonshiner and J Dilla getting all 'Now that's what I call music' with his versioning of the 'Safety Dance'.
[audio:/PCPRaidio_Intesified_Brain_melt_13_11_2010.mp3]
1. AUL WAN – Aul Wan's Grim Rap – Def Record 2009 –
2. GIGGS – The Hardest- Let 'Em Have It – XL
3. WELFARE – Supa Trupa –unreleased- IRE
4. BIG BOI – The Train Part II [Ft. Sam Chris]- The Son of Chico Dusty – Def Jam
5. TODDLA T- Boom DJ From The Steel City – Skanky Skanky 1965
sixfapp 6. CAPTAIN MOONLIGHT – 'The Final Curtain' – 'Agroculture Part 3 – The Lough' self-released IRE
7. ADRIANO CELENTANO – 'Prisencolinensinaincuisol' – 'Nostalrock' – Clan Celentano Records
8. SLEPCY – With Charles Bukowski – The Ride' – 'We Are The Newest Battle Models' – Cock Rock Disco Records
9. FM BELFAST – I Can Feel Love – 'How To Make Friends' – World Champion- Records
10. OL' DIRTY CHANCER – 'My Own Fault feat. Sebi C' – 'Don't Dwell – It' – Community Skratch Music IRE
11. J. STAR – 'Music Time' – 'Cut Ups, Bruck Ups, and Muck Ups Volume 1' – Large Hole Records
pcp 12. DYNAMIX II – Bass Generator -1985 To Present Rephlex
13. NEGATRON- Collider – Unreleased IRE
14. NEGATRON- In Da House – Unreleased IRE
15. ED DEVANE -Brain Your Melt Featuring Scurvy Lass -Molten Membrane -Mantrap IRE
16. ED DEVANE -Doomtime Featuring Scurvy Lass- Molten Membrane – Mantrap IRE
17. T-POLAR – Cooper_track – Unreleased IRE
18. MAJOR GRAVE – Dilettantism – Standard ep 2. Standard IRE
19. FRANKIE BINGO -Cold Without You Original Mix -www.soundcloud.com/frankiebingo IRE
sixfapp 20. HOUSE OF PAIN – 'Jump Around Jantsen Remix' unreleased
21. CAT POWER – Moonshiner -Exillon- Remix' unreleased
22. DJ MEK – 'Look Out He's Irish -unreleased IRE
23. J DILLA – 'Safety Dance' – 'Donut Shop' – Stones Throw Records
24. BOGDAN RACZYNSKI – 'Untitled 8' – 'Alright!' – Rephlex Records)
Posted by homoludo on Nov 11 2010 Posted by homoludo on November 11th, 2010 filed in Irish producers, radio shows, Sixfoot Apprentice
Comment now »
Sixfoot apprentice starts off the show with a great Irish led mash up set including; Manus Goan's excellent 'Party and Bullshit' the pretty 'Shook' from Emancipator, which using a Sigur rós sample could be too sweet , but saves itself with a great acapella , a Pixies journey, the nasty and amazing 'Twisted' from Scary Eire which I had forgotten about and haven't heard since in came out about. My set follows and  doesn't know if it's mash up or linear beats. It includes a mad disturbing/fun piece from Jennifer Walshe (she's this months cover artist in the Wire) , Meljoann, warpo backwards Micheal Jackson biznezz from 1l and Don Daneeka's 'Like a fool' exemplifying some uk funky's turn to classic house basslines . Enjoy.
Also you may have noticed a lot more Irish tunes in these shows. Had begun to try and play 25% Irish tunes and Sixfoot plays lots of Irish so since he's got onboard we'll be hitting that easy.
PCPRaidio – Your name Here
[audio:/PCPRaidio_your_name_here_06_11_2010norm.mp3]
Download or click if you're mobile
Sixfoot Apprentice
1.    ONRA – 'The Anthem' (from 'Chinoiseries' on Favourite Recordings)
2.    MANUS GOAN – 'Woke Up' (from '!Kaboogie Sampler Volume 3' on !Kaboogie Records) (IRE)
3.    RUBBERBANDITS – 'The Greyhound Shuffle' (unreleased) (IRE)
4.    RI-RA – '25 O'Clock In The Morning' (from 'Horses Work For Donkeys Wages' on Maddaxxe Records) (IRE)
5.    PRINCE KONG – 'Fugue' (from 'I Make Me Rigid' on Middle Management Records) (IRE)
6.    MELODICA DEATHSHIP – 'Bang Out Cannons' (from 'Doom Your Cities Doom Your Towns' self-released) (IRE)
7.    EMANCIPATOR – 'Shook' (unreleased)
8.    WHITE ZOMBIE – 'More Human Than Human' (LORN Remix) (unreleased)
9.    SCARY EIRE – 'Twisted' (from 'The Scary Era' on Scare Raid Records) (IRE)
10.    RAS G – 'Untitled' (from 'Secondhand Sureshots' on Dublab Records)
11.    MANUS GOAN – 'Party n' Bullshit' (unreleased) (IRE)
12.    SQUIRE OF GOTHOS – 'Sum'a Dat Gangsta Shit' (unreleased)
13.    RI-RA – 'Front Bar' (from 'Horses Work For Donkeys Wages' on Maddaxxe Records) (IRE)
14.    DJ C – 'Abc Traffic Jam' (from 'MasHits' on Mashit Records)
15.    THE PIXIES – 'Where Is My Mind?' (from 'Surfer Rosa' on 4AD Records)
16.    PASTA MASTA – 'Pixie P' (unreleased) (IRE)
17.    DJ ZEBRA – 'Get It On My Mind' (unreleased)
18.    TRICKY – 'Murder Weapon' (from 'Mixed Race' on Domino Recordings)
PCP in a Shuí
19.    MUNCHI – Shottas_feat_Mr_Lexx_Club_Edit -Murdasound – T&A records
20.    1L-Wanna be startin' somethin'-Das Nonstop-Programm-Res Freq
21.    RICHIE HAWTIN – Spastik -plastikman
22.    JENNIFER WALSHE- (your name here 4)-Nature Data-Interval Recordings(IRE)
23.    MELJOANNE-So Academic-Squick- Boyscout audio (IRE)
24.    CLOSER MUSIK-Closer Dancer-14 tracks deep inside Matias Aguayo -14tracks
25.    IMAGINATION- Changes-Dimitri_From_Paris_Nightdubbin_Instrumental-Nightdubblin ep – BBE
26.    SARSPIRRILA – The Count (Digital Wav)- Rappid fire buzzer ep – !Kaboogie records 03(Ire)
27.    SALEM- Killer- King Night- I am sound records
28.    GEENUS- Night- Volumes One- Rinse FM
29.    PRINCE -When Doves cry – Purple Rain -Warner Brothers
30.    THE MARTIN BROTHERS-Steal_Drums-The steal drums ep- dirty bird
31.    DOC DANEEKA- Like A Fool- Television EP -Pattern
32.    JULIO BASHMORE- Footsteppin-untitled -Ten thousand yen
PS.
If you're in Dublin join us in the Kclub tonight with Gifted and Blessed(all city) Frakie Bingo and Defect + residents, more info here
Posted by homoludo on Nov 04 2010 Posted by homoludo on November 4th, 2010 filed in Irish producers, radio shows, Sixfoot Apprentice
1 Comment »
!Kaboogie kollegue Sixfoot Apprentice joining me on the show this week and from here on out.

PCPRaidio Sixfoot Apprentice
[audio:/PCPRaidio_six_foot_apprentice_30_10_2010_2.mp3]
artist                 name            album
pcp 1.Ramadanman-Â  Pitter Modeselektion Vol. 01 Part 1
2. Sbtrkt – The_Unspoken
3. Nochexxx – Ritalin_Love
4. Nochexxx -Â  Timepiece
5. Frank Vigroux – hidden cd track-Â  Camera Police
6. Frank Vigroux-Â  Matraque-Â  Camera Police
sixfapp 7. DeadFader – No Theif (IRE)
8. RiRá – Clash In. (IRE)
9. Rubberbandits – Pure Awkward. (IRE)
10. Adultrock – Hermione. (IRE)
11. Manus Goan – Woke Up. (IRE)
12. Melodica Deathship – Bang Out! Cannons!. (IRE)
pcp 13. cavern – DARDA – community skratch music 09
14. Mount Kimble- Before_I_Move_Off – Crooks and Lovers
15. Raime We_Must_Hunt_Under_The_Wreckage_Of_Many_Systems
16. The Slits- I Heard It Through the Grapevine -Cut (Deluxe Edition)
17. 2562 The_Wind-Up
18. Mount Kimble – Carbonated -Â  Crooks and Lovers
19. Twoc Fez VIP (IRE) Forthcoming
20. Will Saul – Sequence_1
sixfapp 21. Gon – Chaka. (IRE)
22. Frankie Bingo – Cold Without You. (IRE)
23. SRC – Lemsip.
24. Cignol – Leiden Ex. (IRE)
pcp 25. Blasterbra – Sweetheart the Punk(IRE)
sixfapp 26. Monster Zoku Emsemble – Eat Brains