Archive for November, 2007
Posted by homoludo on Nov 28 2007 Posted by homoludo on November 28th, 2007 filed in radio shows
1 Comment »
This weeks show features the new Sarantis and few of his classics. A few Ragga hip hop tunes from french proto-mash up producer Dj Xela.

Finishing up with a Dubstep deck edit of Britney's "Toxic". Which btw I'm looking for the instrumetal of, if anybody want's to get rid of it. It's used as a riddim in grime. Or at least by Prancehall in his Anger is a gift mix
[audio:/pcpradio24-nov-07.mp3]
Tracklist
1. Dj Blaqstarr -Shake it to the Ground feat Rye Rye
2. Starkey – Prism
3. Sarantis- Outlaw dub
4. Sarantis- Feat Warrior Queen – Who am I ?
5. Sarantis- Feat Bunnington Judah – Why dem fight?
6. Sarantis- Buffalogal Version
7. Turbulence – Notorious -Homoludo Dubstep edit
8. Jay z -Excuse me miss – rustie remix
9. Dj C – Gone a Jail kid – Kid606 remix
10 Kid606, DJ Rupture & Sister Nancy — Little More Oil
(Taking Over Venezuela To Fuel Our Suvs Mix)
11. Aaron Specte Look out fi Liar (intro)
12. hey-O-hansen – Fire
13. Dj Xela – Cutty Rank feat General Levy "Weh dem watch we for"
14. Dj Xela – General I.k. – Piosonous
15. Dj Xela – Mad Lion feat Edley Shine – Crazy
16 Dj Xela – Suppa Cat Feat Jagged Edge -Girlstown
17. Dj Xela – Dancehall Queen rmx
18. South Rawkas Crew – Carry feelings
19. Slick Rick – Mona Lisa (cheers Dj Halfdutch)
20. Ove naxx- Jungle Riot-
21. Lethel Bizzle – Babylon's burning- xxxChange remix
22. Bash steet kids – Power of Darkness(moving shadow)
23. Caspa – Fat headed slags
24. The Steets – Push things fwd (intro)
25. kosh- Brassic
26. Omni Trio – Renegade Snares
27. Britney Spears – Toxic – Homoludo Dubstep edit for Twoc
Posted by homoludo on Nov 25 2007 Posted by homoludo on November 25th, 2007 filed in garage rock, music, video
Comment now »
The pictures below are links to a couple of videos by The Horrors. The first 'Sheena is a Parasite' is one I slept on- video by Chris Cunningham and the second 'She is the New Thing' -video by Corin Hardy is also very good(like something drawn by Dave McKean). Both the music and the video's appeal to my inner goth child and chime with my slight but growing obsession with Bridget Riley(sixties op artist). I'm planning a garage rock temple to her for next summer.
Click the pics to link to the vids.
While on the subject of garage rock songs that begin with 'she', here's the best one.
'She's bored with you' by The Reigning Sound
[audio:/shesboredwithyouThe%20Reigning%20Sound.mp3]
Posted by homoludo on Nov 23 2007 Posted by homoludo on November 23rd, 2007 filed in music, video
Comment now »
Dj Blaqstar 'Shake it to the Ground' remixes are excellent also.
It's kind of a Juke track, which is a dance craze coming out of but not confined to Chicago.
Click on the pics to see the vids.
The tune this links to ain't half bad either.

It's seem to be that they're gettin' into ravin'. The style is not that unlike the dancin' in Prodigy videos or when one was on one 'back in the day'. You know those moments when you go up a gear and start dancing to the 16ths, 32's etc? Only obviously better 'cause they're American.
Also check out new Euro dance craze, 'Jump Style'
Posted by homoludo on Nov 21 2007 Posted by homoludo on November 21st, 2007 filed in artaud, music, radio, radio shows
1 Comment »
Hi here's this weeks radio show.
Starts of with a spontaneous mash of Superman by Laurie Anderson, which kinda relates to the Artaud post below. After that mostly Dubstep and Grime, with a few new ones from Starkey, Bug, Kode9 and some white labels and Dubs.
Track listings will be here when I get this here hyperwriten doohickey all figured out.
[audio:/pcpradio17%20_11_07.mp3]
Tracklisting
1. Laurie Anderson – Superman / mixed with Timeblind –
2. Burial – Etched headplate
3. The Bug feat Killa P and Flowdan –Skeng
4. White – I don't give a dub
5. Starkey – Prism check
6. Heavey Artilary –
7. Starkey – Bounce
8. Starkey Feat Lupe – Push Kick
9. Quatra 330 – Sunset Dub
10. The Bug feat Killa P and Flowdan –Skeng – Kode 9 remix
11. Starkey – Kick it(Dub)
12. Dexplicit – white
13. Skepta -Stageshow
14. South Rawwkus Crew – Lately
15. Miss Dynamite with Sticky – Boo!
16. Bart B More – So it Goes
17. Unknown – White
18. Starkey – Let you go – Mathead remix
19. Cloaks – Hi Tech
20. Smiley Culture – Roots Reality (Homoludo Dubstep rmx)
Posted by homoludo on Nov 20 2007 Posted by homoludo on November 20th, 2007 filed in artaud, difference, music, theatre, writing
Comment now »
In the 1940's a Artaud, a French actor/poet and schizoanalytic philosopher wrote a piece called On Balinese Theatre.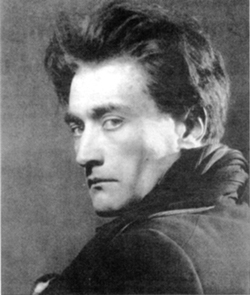 In it he speculates on music.
"There is also the broad, pounding rhythm of the music-an extremely insistent, droning, and fragile music, in which the most precious metals seem to be ground, in which springs of water seem to gush up as if in their natural state, and armies of insects march through vegetation, in which one seems to hear captured the very sound of light, in which the sound of deep solitudes seems to be reduced to flights of crystals, etc., etc…

…all these gestures, these angular and abruptly broken attitudes, these syncopated modulations formed at the back of the throat, these musical phrases that break off short, these flappings of insect wings, these rustlings of branches, these sounds of hollow drums, these creaking of robots, these dances of animated puppets,..
"the most compelling correspondences are constantly fusing sight with sound, intellect with sensibility, the gesture of a character with the evocation of the movements of a plant, across the scream of an instrument. The sighing of a wind instrument prolongs the vibrations of vocal chords with such a sense of identity that one cannot tell whether it is the voice itself that is being sustained or the senses that have absorbed the voice from the beginning. A frolicking of joints, the musical angle which the arm makes with the forearm, a foot that falls, a knee that bends, fingers that seem to fly off the hand-all this is like a perpetual play of mirrors in which the parts of the human body seem to send each other echoes, musical phrases, in which the notes of the orchestra, the whispers of the wind instruments evoke the idea of a violent aviary where the actors themselves provide the beating wings.
"…the infinitely varied modulations of the voice, in that downpour of sound, as of a vast forest dripping and coming to life"

Some background- In 1937 Artaud came to De Valera's Ireland on his return from Mexico.
There he had kicked his heroin habit; he was in the land of the Tarahumaras and couldn't get any. This may have been part of his purpose. There he took peyote with the Tarahumaras Indians, had many interesting visions and adventures and returned to France.
Back in Paris, he had a staff of knotted wood he believed to have belonged to Lucifer, Jesus and St Patrick. Moral fellow that he was, he decided to bring it back and give it to the Irish people. The staff of St Patrick was a religious, sexual and artistic totem for Artaud and his purpose may have been to research the staff. Ireland was also the recent site of the 31st Eucharistic Congress, the Catholic Church's big international do.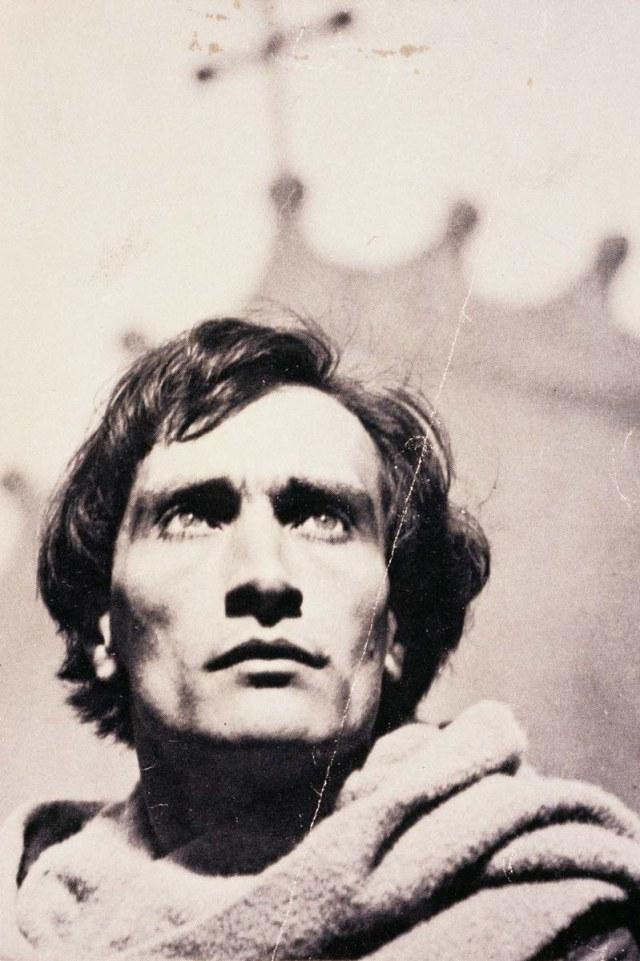 Artaud in 'Joan of Arc'
He came through Dublin and went west. Remember, this was a time in Ireland when membership of Communist organisations was a mortal sin.
Once in Galway, he got into various scrapes; a fight over non-payment of rent in the Aran islands, barricaded himself in a guest house( I picture the landlady trying to deal with the ranting paranoid visionary), tried to storm a Jesuit house and finally spent a week in jail before being deported back to an asylum in France, where he spent most of his remaining years. Here he was treated by Jaques Lacan the father of modern philosophic psychoanalysis.
This is the type of racket his landlady would have heard. (From his banned radio play to 'to be done with the judgement of God' ubuweb)
[audio:/Artaud-Antonin_06_Sound-Effects%20banging%20ect.mp3]
This is a postcard he wrote from Eyre Square.


For me the story has everything; insanity, theatre, drugs, music, puppets, philosophy and farce in 1930's Ireland and is the basis for my projected dub opera.
Artaud in 'Le Croix de Bois'
Oh yeah the mommy reference is to a famous quote from him "no mommy-pappy me", which was his way of saying he way trying to escape the Oedipus complex. He's also famous for his concept of the Body-Without-Organs. The person who posts the best 100-word explanation of which gets a free Cd.
Posted by homoludo on Nov 16 2007 Posted by homoludo on November 16th, 2007 filed in music, radio, radio shows, starkey
Comment now »
This weeks show was a Starkey special, with most of the tunes coming from the Philly Grimester. His podcast mix for Xlr8 is well worth checking out. As is his radio show with Dev79.
He has Dubstep luminaries as guests on a regular basis and this week had a hilarious feature on 'Squee', a new style of music to which Finnish people drunkenly stumble to quote Dev79 'rythmic drukeness'. More on that anon.
Also on show was an excerpt from blogariddims 29 podcast- Lower end spasm or "Grimespasm" . This is my favourite mix from the excellent the Irish podcast series Blogariddims
[audio:/pcpradio%2011%2011%2007%20starkey%20bassline%20grime.mp3]
1. Starkey feat Lupe Fiasco – Push kick
2. Starkey – Pins – akti2 remix
3. Starkey- xlr8 Podcase excerpt for about twenty minutes, track it down
4. Starkey -Pins flip
5. Sizzla – Born in a system (accapella)
6. Starkey – let you go – Mathead remix
7. Quatra 330 – Sunset dub
8. Skepta- reggae
9. 69 Allstar -Blogariddims 29 – grimespasm excerpted and cut together about five tracks
10. Starkey – Let you go – Dev 79 remix
11. Hater Billingsly – Crank that fracture
12. Starkey – Let you go
13. Sizzla – Born in a system (accapella)
14.Niche Vol 1 – Bassline compilation excerpted the last few tracks
15. U Wot U Wot – B6/GSA
16. unknown – unknown
17. Why – T2 feat. Danika
18. It's Just The Way – JTJ Productions
19 Ingz & Snapz – Back2Back
20. Relay feat. Murkleman, Skepta, Chronik, Sickman & Angery – Slew Dem
Btw, this is what a young homoludo looks like.
Posted by homoludo on Nov 16 2007 Posted by homoludo on November 16th, 2007 filed in radio, RTE, tv, writing
1 Comment »
I do a radio show every week on Radio Na Life, called PCP ina Shuí, which is my Dj name.
The name PCP in Shuí ( ina Shuí means – sitting down) is kinda of a gag in Irish. Only people with some knowledge of seventies and eighties broadcast culture in Ireland get it, so I'll explain: There used to be an Irish language chat show on RTE 1 tv called SBB ina shuí. This was presented by Séan Ban Breathnach – at the time a part of the seventies wave of cool gaeilgoir. This meant speaking and being proud of the Irish language and culture and wearing beads and chunky jumpers. Current exponents of the look would be the Kila lads and lassies. SBB had the same kinda kudos level.
At the time I started the show (94/5)it was unheard of to have beats on legal radio and it was odd (in a good, funny way) to be presenting them through Irish. This was the time of repetitive beat legislation in England and there was a frisson of danger to the whole thing. The name was a rhyming pun, mixing up the incongruous ideas of Dj names, chemistry culture, Irish language, beats on "official"the radio etc. It was funny at the time…
SBB has become a figure of fun for many, participating in b list celeb singing contests. But tall in my memory is the hirsute and beaded seventies culture warrior and the scandal in the RTE Canteen when his co-presenter breast fed her baby.
SBB's case is good illustration of the nature and longevity of 'Cool' and inevitablity of ending up as a dodgy cabaret performer( see Orson Wells, Dawkins) . So might as well embrace it.
I'll try and find and post a picture of SBB in all his seventies gaeilgoir glory.
Posted by homoludo on Nov 02 2007 Posted by homoludo on November 2nd, 2007 filed in mashes, music
Comment now »
This is a remix/mash I did on turntables. It's an old Smiley Culture b-side – Roots Reality mixed with Bless by Komonasmuk and White Boi.
[audio:http://www.olwill.com/content/roots_reality.mp3]
Posted by homoludo on Nov 02 2007 Posted by homoludo on November 2nd, 2007 filed in Uncategorized
6 Comments »
Check, check 1,2.  1,2   check.  Er, Hello? testing…can you hear me? Hello? Is this thing on?(scream of feedback stings ears…)