Posted by homoludo
on November 6th, 2009 filed in
Irish producers
,
prince kong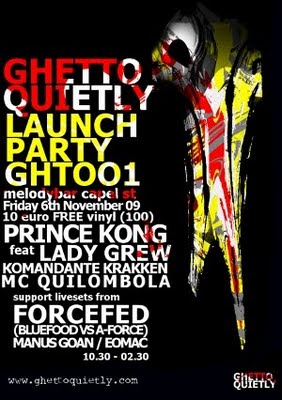 Major gig tonight-Ghetto Quietly with their first release -Prince Kong's amazing Proper Horror Show.  One of the most important Irish dance releases ever, mark my words. Free double vinyl of the album with the ten euros admission.
As Bookat said –
What do you get if you cross the DJ Producer with Diplo and The Bug? Maybe something close to Prince Kong on 'Proper Horror Show'. After a couple of storm-troopin ragga cuts for Alphabet Set and !Kaboogie Records he's made an even more uncompromising effort for the newly minted Ghetto Quietly label, reeling between bushwacka Ragga-gabber on 'Angsta' feat Jah Balance, to hyper-Soca rinseouts featuring MC Quilombola on 'Whailt' and 'Cazz'. It's fair to say there's not really owt around like this so it's the finest example of this style that you're going to find.
Note there's not 'owt around like this' – Just what Irish dance music needs – people with their own sound and Prince Kong's has nailed a sound that's got roots without sounding like it's apeing a scene anywhere else -a rare quality in an Irish dance record.
Here's a taster of what will be on offer tonight. ( check out the tentecled monster that is 'Demons' – a soundtrack to a Mike Mignola adventure)
Tracklist
1.Prince Kong -Demons feat Comandante Krakken
2.Prince Kong – Move Up feat Warrior Queen-from the Well Sick ep on !Kaboogie
3.Prince Kong -Outside feat Tommy Trouble & Eccleton Jarrett
4.Prince Kong -Cazz feat mcRodrigo
[audio:/Prince%20Kong%20Sampler.mp3]
Download
(This audio will be fully loaded in a half an hour or so)