Archive for January, 2008
Posted by homoludo on Jan 28 2008 Posted by homoludo on January 28th, 2008 filed in africa, maroc, Photography, radio shows
1 Comment »
I was over in Marrakesh for a few day over New years. I was a bit daunted by the prospect of standing listening to hours of Enya-like local music at one of the stalls selling best of Maroc Cd's, when what I wanted was beats and Hip hop. Following my nose through the souk, I had the good fortune to hear some beats coming out of a shoe salesman's shop. I stood listening for a while and when I made it clear that it wasn't shoes I was interested in, we got down to listening to some tunes – he watching my face to see what I was nodding along to, then we got down to some bartering. This weeks show is based around the cd's he sold me. Also some Soot records stuff (featuring some of the same rappers on the cd's I bought) Muslimgauze and bits and pieces. Thank you shoe salesman!
I particularly like 3Awd Lil's (the black horse) tunes. It turns out his lyrics are amazing also. I'll post on him during the week- with some translations and add some links and info to this post.
Tracklisting
1. Imams prayer
2. Muslimgauze – Death of Saint Jarnaii Singh Bindranwale
3. 3awd lil – Fine tout fine
4. Mutamusic – Show 2 show(dj rupture remix)
5. 3awd lil – Samia wi laglia
6. Mutamusix – Imagrints on course
7. 3awd lil- Raw daw
8. Magoa Bo feat Bigg – 3Akel Dr das remix
9. Mutamusic- Babomb
10. Le Micro Brise le Silence -Hakmet_aa_chaabi
11. Aaron Spectre – Botan Rice breaks
12. Maga Bo – Nakhil feat K-Libre Nettle remix
13. Tube jerk –
14. Piste 08 (don't have title for this one, will try and get some info)
15. Muslimgauze – A Small Intricate Box, which contains Died Blue Opium Marzipan
16. EL Handi I-l'aaà chik
17. Fnaire-Reggaerap
18. Fas city clen – (re. info see above)
19. chahid!!s
20. Djalti – Ya moulate khimare
21. Bigg – Aklia (mkawad remix)
22. Piste – (ibid)
23. Khaled – Adieu
[audio:/PCPRadio_26_01_08_Maroc.mp3]
Posted by homoludo on Jan 23 2008 Posted by homoludo on January 23rd, 2008 filed in Irish bands, video
4 Comments »
Red Hot Entertainment – Junior Spesh

I saw the above posted by Prancehall and thought of this ( the link becomes apparent after a minute or so) –
Buffulo – Stump(1988)
Posted by homoludo on Jan 20 2008 Posted by homoludo on January 20th, 2008 filed in radio shows
5 Comments »
I asked some people I played or worked with over the last year to chose a tune they liked from 07. Thanks to everybody for playing the game and getting back to me
Artist——-Tune————Selector
1. Animosity – Progression through failure- Aaron Spectre
2. Jestoneart esq. – Expendable man – Vex'd
3. Burial -Unite- Craigoh
4. Disrupt – Root matrix – Dj ripley ( she got 2 'cause disrupt is so good as is Jahtari the label where they're available, also check out the digi dub player)
5. Disrupt – Bomb20 – Dj ripley(Marioi and Donkey Kong sharing a spliff, then getting up to have a little skank)
6. Marlow – Scum -Pasta masta
7. Coti – I don't give a dub- Six foot apprentice(Irish mashatista)
8. Rusko – Cockney Thug – Craigoh(works in the main shop stocking Dubstep, breakcore etc)
9. Forsaken – Boat noodles – Ross Carroll(Reach /Wobble)
10. Movado/kartel – Toe to Toe – My dance hall artist/tune of 07 (Could have been some others, amazing grace was amazing, this have some v dodgy chats, and I ambivalent about playing it, but its murderous power is hard to deny)
11. Dizzy Rascal Chase &Status remix – Sirens – My drum n bass tune of 07
12. Drugzilla – 0n a mission from hippy in a van- Drugzilla (selecting themselves 'cause they're Oirish breakcore royalty)
13. Drumcops- Incarnate – My Breakcore tune of 07(where's the breakcore gone? Expect a return in 08)
14. Fight like apes –Jake Summers- my Irish rock tune of 07
15. Jen Lekman – kanske ar jag kar i dig – Kool Drool
16. koze – Hicc up – Dj Atari Flynn(he actually chose Mr Decy Gui Barrato, but I couldn't find it and he had left this in me gaff and even though it's from 05 I was getting sick of the whole 07 thing – it's like so last year)
17. Body language Ganzer Niggeman remix (just to mix in )
18. Sub version – Soul Jah Boogie – my second Dubstep tune of 07
[audio:/pcpradio_chart_your_cycle_2_19_1_08.mp3]
I'll fix up this post later….
Forgot to play any of it last night but my mix of the year was Anger is a Gift – Prancehall
Posted by homoludo on Jan 18 2008 Posted by homoludo on January 18th, 2008 filed in blogging, hardcore, history, music, theory, writing
4 Comments »
Or how many history boys can fit on a moped?
I have to post on this 'cause it's so funny and interesting. There's a blogging bitch fight(Edit: Debate/commentary might be better. I have since realised there's something called pings and my post links back to those I refer to. Fools rush in etc.) about to begin/has begun about the nature of the Hardcore Continuum. The whatcore in the whennuum? I hear you ask. It's a blogging/journalistic conceit/box for rave/hardcore/jungle and their many bastards. Originally coined by Simon Reynolds
(link to a collection of posts about the 'nuum as he calls it) . K-punk and others have run with it since and are using it currently to talk about bassline and funky.
Where it gets funny and interesting is that Word the Cat, Dj Rupture and others(dead on) have gotten sick of the slightly smug way it is being used to lend authority (authoritaaay) to their opinions about new uk music.
nicked from uncarved
What's really interesting about all this is what it shows about the nature of blogging. There is no NME or fanzines any more in the sense of common reference points for music. Music is propagated by the net and the blogs are the signposts – ways of finding, reading about and hearing new music. Dubstep grew so quickly 'cause of them. Cumbia is growing via the same via.
People like when music has meaning – be it punk and the situationist international/socialism, Rave and communal future fever or reggae and ideas of Africa/home, Babylon and righteousness. Thing is theories aren't real, models aren't buildings- they're much smaller and made of balsa.
One of the striking things about Rupture is his super elegance; in his music and writing – the tone is always very carefully judged, knee jerk negativity avoided; the poise in everything about gold teeth thief still strikes me as amazing – from the selections to the mixing to the distribution to the implicit politics along the way- breathtaking. But he lets his claws show when he writes:
note: I've read all the post-structuralists in K-Punk's toolkit, and it strikes me as bizarrely inappropriate that he invokes Luce Irigaray in a "nuum" article reinforcing simplistic MALE vs FEMALE readings/classifications of club music. Écriture féminineFact piece is not. Even if the mistake presents itself as homage to another writer's refried ideas.
That's a lot of reading and the criticism could be leveled that global ghetto tech is not that dissimilar as a category and the power relations defense of homophobia etc in the article is only part of the story. ( the society of the speculum anybody?). The point he makes though is valid , while I really love K-punk, particularly the early stuff, before the riffs got repetitive- a bit like jungle) he can shoe horn the theory sometimes. In his defense there is not a lot of politically/theory focused blogging and as far as I'm concerned the more the better.
note: The percentage of the population with graduate degrees in Europe is on the way to forty percent. Thus a lot of people read the theory toolkits, even if most go on to use them for better marketing/administration and 'more bigger snacks now'.
[Audio:/JME_96BarsOf%20JME.MP3]
JME – 96 bars of JME (Jammer with a tune about grime and education)
This also leads to many DJ, artist and producers explicitly or implicitly refering to theory in their music. In this the dance music 'nuum is getting like the art world – where theory and commerce tango with commerce leading.
Sister Nancy said it best in the eighties – though now every Dj has a college degree!
[Audio:/10%20-%20only%20woman%20dj%20with%20degree.mp3]
Sister Nancy – Only woman dj with a college degree
I'm libran and while I don't believe a word of astrology(though it's still true sometimes), I see this as bit like my bum- when I crane my neck there are two sides.
I look forward to K-punk's Lacan quoting explicating of the 'real' in this matter. And hope it generally flames up 'cause the structure in this case is a lot more interesting then the content.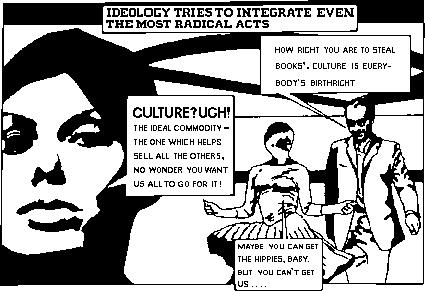 and lets finish with a song from 92-, for me this one kind of sums up a lot of what they mean by the 'nuum.
Acen- Window in the sky
[Audio:/Acen_Window_in_the_sky.mp3]
Anyway I'm off to college so I'll leave you with this-
Like a super hero Richie Kaboogie and the Kaboogie super friends came along two years ago to rescue Dublin dance music. With attitude and an indifference to fucking sneaker styles , Kaboogie started putting on gigs. Starting in shitty pub the icebar with Aaron Spectre when he was red hot, the first Kaboogie night was a heaving moshpit that was closer to a Fugazi gig then a dance gig. That night was classic and I was well pleased to be on the bill supporting as Aaron's sets were the freshest around at the time. In the two years since Kaboogie has been the most musically innovative night seen in dublin since the blah blah blah of early rave. The second birthday bashment is on next Friday, the 25th of January.
Warlock is headlining what looks like a high energy night, Here's an excellent set from him, the second half in particular hums lovely. I'll post more on Kaboogie later.
!Kaboogie 2nd Birthday and Label Fundraiser with
Warlock (rag&bone)
Sunil Sharpe (mantrap/spindizzy)
Thatboytim (takeover)
Major Grave (!kaboogie)
Edit:In response to Craigho's comment – here's the mutant mix he recommends.
Posted by homoludo on Jan 13 2008 Posted by homoludo on January 13th, 2008 filed in music, radio shows
6 Comments »
I asked everybody I played or worked with over the last year to chose a tune they liked from 07. Part two next week with selections from Vex'd , Aaron Spectre, Six foot Apprentice, T-woc, Clouds and more.
But for now here's part one –
[audio:/pcpradio_chart_your_cycle_12_1_07.mp3]
Maker——- —-Tune ————-Selector
1 Hot 8 Brass Band – Sexual Healing – Dj halfdutch
2 Lil Wayne – Dying – My Hip Hop selection
3 Party Weirdo (excellent Dublin band) – Chart your cycle – Dj Krossphader
4 Dirty projectors – No more – Dj Rupture
5 LCD soundsystem 33/ 45 – Gerry Bigbrother
6 Prince kong – skylines(a sick remix of Super extra bonus party, which should carry a health warning, class) – My Irish Tune of 07 selection
7. Watch my feet – Dude N'Nem – Dj C
8 Durty Goodz – Switching songs Pt2- My Tune of the year without a shadow
[audio:/Durrty%20Goodz%20-%20Switching%20Songs%20Part%202%20%5bFull%5d.mp3]
9. Blearg – Aint no other man(Oral fist fuck mix) Kid Kameleon
10 CSS – alala – Charlie Stross – Best new Sf writer in a while, I'll post about him soon.
11 RSD – Kingfisher – A-Force
12 Rougestate feat Daddy Freddy – Very dangerous – Colz
13 Bug and Warrior queen- Poison Dart – Warrior Queen selects her own tune and you can't argue with royalty
14 Bug feat Flow dan and killa p – Skeng – Richie Kaboogie
15 Emalkay – Rouge – Starkey
16 Starkey – let you go (Mathhead remix) – From the NC-17 ep – My ep of the year.
17 Quatra 330- Sunset Dub – My Dubstep tune of the year
18 The Tuss – Rushup ibank – Dj Rodders selection
Posted by homoludo on Jan 08 2008 Posted by homoludo on January 8th, 2008 filed in dubstep, K, writing
5 Comments »
The ruination of Dubstep by dirty K sniffin' crusties – Discuss.
"I also went to a squat party in west London over the weekend and heard dubstep rinsed on the main system, something that's now a regular event at squat raves. This has been building for more than a year now, but in the last few months dubstep has properly crossed over into the free rave scene.
It seems to me that this has come from two different angles. The rig owners, having often spent tens of thousands on their soundsystems, are unsuprisingly eager to play music that shows off thier pride and joy in the most devastating light. Certainly I've never heard dubstep sound as physical and overwhelming as it did on saturday, played on maybe the best free party rig in the country – a rig that would destroy all bar a tiny handful of London's club soundsystems.
But from the punters point of view, it seems that people have suddenly woken up to the amazing syncronicity between dubstep and ketamine, which I guess was totally unintentional on the part of dubstep's originaters. But K and dubstep were born for one another, just like extacy and acid house… and watching dubstep's sudden boom in squat raves has really reminded me of the lightbulb that went on over people's heads in 88-92 when they first took Es to house music…"