Archive for the 'art' Category
(Posts Archive)
Posted by homoludo on Dec 21 2011 Posted by homoludo on December 21st, 2011 filed in art, video
Comment now »
Wow. Came across the below video by video artist Ryan Trecartinon on Ubuweb while reading this piece  by Andy Battalgia about James Ferraro's Far Side Virtual which just got album of the year in The Wire magazine. Flick through it a bit, gets kinda amazing, and the audio is brilliantly done.
The Re'Search (Re'Search Wait'S) -Ryan Trecartin
Posted by homoludo on Jun 18 2009 Posted by homoludo on June 18th, 2009 filed in !Kaboogie, art, gigs, live sets, music
Comment now »
From the Wrong vs !Kaboogie last weekend –here's an all irish show from wrong radio show from last monday night with Ebola, Noid the droid,  and judith priest presenting.
[audio:/The%20Wrong%20Music%20Show%20(Irish%20Special)%20150609.mp3]
Also if you like vadges and or cunst( a lot of which will be for sale) this is for you.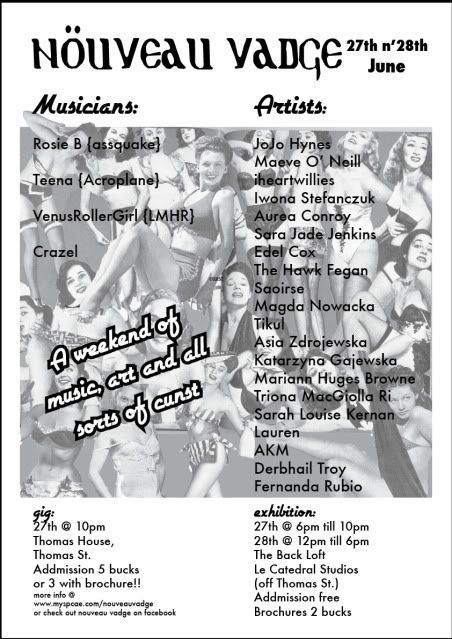 Posted by homoludo on Nov 13 2008 Posted by homoludo on November 13th, 2008 filed in !Kaboogie, ai, animation, art, film, gigs, paranoia, video
Comment now »
Linked below(it messes up this page if I put it here) a paranoid AI themed video from Eamon Crudden who I used to make films with. I saw it at the opening of the Irish museum of contemporary art last Friday. Other good live content was smSage a surveillance camera that speaks when you text it- 'sex sex sex i see you i see you i see you sex sex sex fun' it's creators Tim and Ralph agree it would be fun while smoking fags outside a nightclub so I'll try and organise that soon, maybe at the Bug and Warrior Queen next week. Also a performance by modular synth improv act Push,move,click was good craic, though not as much fun as Ken Grizzle's speech. An inspiring rant against western tonality and the complexity of musical instruments saying how they should be as immediate as a marimba and playable by your granny- my fist was in air. They went on generate tones from a set up that probably cost about twenty grand and looked like an aircraft control room. Run grannies run!
Click on the image to watch the film.
The !K Club

I'm going back to back with Richie K and Konspiracy tonight at the !k club.
*DEFEKT (deadbeat) www.myspace.com/defektedelectro
*AUTOMATIC TASTY (acroplane) www.myspace.com/automatictastys
*KALPOL www.myspace.com/goldteeththief
*KONSPIRACY b2b RICHIE K n' DJ PCP www.myspace.com/konspiracydub
*…and !K Club Residents.
Free
Downstairs in Thomas Reads,
Dame Street, Dublin 2.