Archive for the 'history' Category
(Posts Archive)
Posted by homoludo on Sep 25 2008 Posted by homoludo on September 25th, 2008 filed in gigs, history, radio
Comment now »
Raidio na Life is 15 tonight with gig  at Sult in Break for the border tonight from 8.30. Playing are DJs  DJ Halfdutch, Traic Ó Braonáin and Peadar Mac Gaoithín as well as live music from Congolese band Lace. Should be good craic. Mmmm, somewhat scary to think how long I've been doing this… good scary.
Posted by homoludo on Sep 23 2008 Posted by homoludo on September 23rd, 2008 filed in hardcore, history, Irish bands, mashes, radio
2 Comments »
Aoife's Indie hour. Six foot apprentice and I playing and being interviewed about mashes and remixes 'n all. The second half features Super extra bonus party chatting and playing some the tunes from their upcoming remix album.
It's available here .
Also the DIY special she did last week. A really great show – people who do – talking about and playing tunes from the past and present of DIY in Dublin/Ireland (slightly weird to think of it as a "scene", it's just the way it's done, isn't it?) and Adebisi Shank in for the last section playing tunes from their new one .
Posted by homoludo on Mar 28 2008 Posted by homoludo on March 28th, 2008 filed in dubstep, gigs, history, K
1 Comment »
Some background on the tonight's bass science.
My understanding is that Mr 9 went to college with K-punk. Where they were in a krew called Ccru (Cybernetic Culture Research Unit). Based in Birmingham and founded by Sadie Plant and abetted by Nick Land("professor of delirial engineering" ).
Here's an excerpt from a ten year old interview about them re-uped by K-punk.
Still nominally affiliated to the famously poststructuralist Philosophy Department of Warwick University, England, the Cybernetic Culture Research Unit is a rogue unit. It's the academic equivalent of Kurtz: the general in Apocalypse Now who used unorthodox methods to achieve superior results compared with the tradition-bound US military. Blurring the borders between traditional scholarship, cyberpunk sci-fi and music journalism, the CRRU are striving to achieve a kind of nomadic thought that to use the Deleuze & Guattari term—"deterritorializes" itself every which way: theory melded with fiction, philosophy cross-contaminated by natural sciences (neurology, bacteriology, thermodynamics, metallurgy, chaos and complexity theory, connectionism), academic writing that aspires to the future-shock intensity of jungle and other forms of post-rave music.
They used of K's as in kyber punk as opposed to cyber punk, Kode in place of code. This usage of K was to distinguish themselves from the US version of Cyber, tainted by the suspicion that it's all just a cover for building an infinite world in which to play with an infinitely real Barbie playmate . Tainted also by the psychedelic light movement, Necropronte, Wired etc. They were into numerology and a practice called hyperstition(hyperdub?).
Kode 9 is long rumored to be writing a book on sound as weapon, though no doubt distracted by his success at the moment. The track that contains the most hints as to this is 'Backwards', available in one of my back shows. This vid is also worth checking out.
This is scribbled while cooking dinner and getting ready to go the the gig – the rice is roiling so see you later ….
Posted by homoludo on Mar 14 2008 Posted by homoludo on March 14th, 2008 filed in animation, history, video
Comment now »
Thinking about complicity and "more bigger snacks now!" etc. I remembered this animation, seen as a teenager on late night Channel 4, when they used to show a lot of animation from around the world as opposed to plastic surgery and diets . I googled my memory of it(see earlier post on Google and memory), which was that it was a Dostoevsky story and painted on glass , and hey presto here it is –
by Alexander Petrov
While feeling animation; dark but light – the work of David Firth – here's a link to the brilliant Salad fingers. Great sound design as well.
If you don't know him Check him out, really.
And Ryan by Chris Landreth. A technically amazing film about a down and out animator. Brings to mind the talented ravers I knew who didn't find a better life through chemistry.
Posted by homoludo on Jan 18 2008 Posted by homoludo on January 18th, 2008 filed in blogging, hardcore, history, music, theory, writing
4 Comments »
Or how many history boys can fit on a moped?
I have to post on this 'cause it's so funny and interesting. There's a blogging bitch fight(Edit: Debate/commentary might be better. I have since realised there's something called pings and my post links back to those I refer to. Fools rush in etc.) about to begin/has begun about the nature of the Hardcore Continuum. The whatcore in the whennuum? I hear you ask. It's a blogging/journalistic conceit/box for rave/hardcore/jungle and their many bastards. Originally coined by Simon Reynolds
(link to a collection of posts about the 'nuum as he calls it) . K-punk and others have run with it since and are using it currently to talk about bassline and funky.
Where it gets funny and interesting is that Word the Cat, Dj Rupture and others(dead on) have gotten sick of the slightly smug way it is being used to lend authority (authoritaaay) to their opinions about new uk music.
nicked from uncarved
What's really interesting about all this is what it shows about the nature of blogging. There is no NME or fanzines any more in the sense of common reference points for music. Music is propagated by the net and the blogs are the signposts – ways of finding, reading about and hearing new music. Dubstep grew so quickly 'cause of them. Cumbia is growing via the same via.
People like when music has meaning – be it punk and the situationist international/socialism, Rave and communal future fever or reggae and ideas of Africa/home, Babylon and righteousness. Thing is theories aren't real, models aren't buildings- they're much smaller and made of balsa.
One of the striking things about Rupture is his super elegance; in his music and writing – the tone is always very carefully judged, knee jerk negativity avoided; the poise in everything about gold teeth thief still strikes me as amazing – from the selections to the mixing to the distribution to the implicit politics along the way- breathtaking. But he lets his claws show when he writes:
note: I've read all the post-structuralists in K-Punk's toolkit, and it strikes me as bizarrely inappropriate that he invokes Luce Irigaray in a "nuum" article reinforcing simplistic MALE vs FEMALE readings/classifications of club music. Écriture féminineFact piece is not. Even if the mistake presents itself as homage to another writer's refried ideas.
That's a lot of reading and the criticism could be leveled that global ghetto tech is not that dissimilar as a category and the power relations defense of homophobia etc in the article is only part of the story. ( the society of the speculum anybody?). The point he makes though is valid , while I really love K-punk, particularly the early stuff, before the riffs got repetitive- a bit like jungle) he can shoe horn the theory sometimes. In his defense there is not a lot of politically/theory focused blogging and as far as I'm concerned the more the better.
note: The percentage of the population with graduate degrees in Europe is on the way to forty percent. Thus a lot of people read the theory toolkits, even if most go on to use them for better marketing/administration and 'more bigger snacks now'.
[Audio:/JME_96BarsOf%20JME.MP3]
JME – 96 bars of JME (Jammer with a tune about grime and education)
This also leads to many DJ, artist and producers explicitly or implicitly refering to theory in their music. In this the dance music 'nuum is getting like the art world – where theory and commerce tango with commerce leading.
Sister Nancy said it best in the eighties – though now every Dj has a college degree!
[Audio:/10%20-%20only%20woman%20dj%20with%20degree.mp3]
Sister Nancy – Only woman dj with a college degree
I'm libran and while I don't believe a word of astrology(though it's still true sometimes), I see this as bit like my bum- when I crane my neck there are two sides.
I look forward to K-punk's Lacan quoting explicating of the 'real' in this matter. And hope it generally flames up 'cause the structure in this case is a lot more interesting then the content.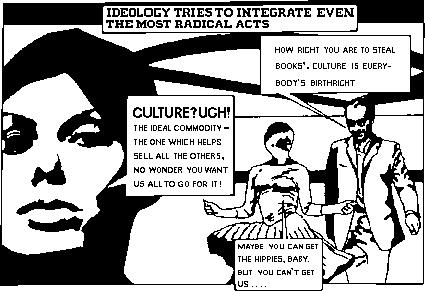 and lets finish with a song from 92-, for me this one kind of sums up a lot of what they mean by the 'nuum.
Acen- Window in the sky
[Audio:/Acen_Window_in_the_sky.mp3]
Anyway I'm off to college so I'll leave you with this-
Like a super hero Richie Kaboogie and the Kaboogie super friends came along two years ago to rescue Dublin dance music. With attitude and an indifference to fucking sneaker styles , Kaboogie started putting on gigs. Starting in shitty pub the icebar with Aaron Spectre when he was red hot, the first Kaboogie night was a heaving moshpit that was closer to a Fugazi gig then a dance gig. That night was classic and I was well pleased to be on the bill supporting as Aaron's sets were the freshest around at the time. In the two years since Kaboogie has been the most musically innovative night seen in dublin since the blah blah blah of early rave. The second birthday bashment is on next Friday, the 25th of January.
Warlock is headlining what looks like a high energy night, Here's an excellent set from him, the second half in particular hums lovely. I'll post more on Kaboogie later.
!Kaboogie 2nd Birthday and Label Fundraiser with
Warlock (rag&bone)
Sunil Sharpe (mantrap/spindizzy)
Thatboytim (takeover)
Major Grave (!kaboogie)
Edit:In response to Craigho's comment – here's the mutant mix he recommends.